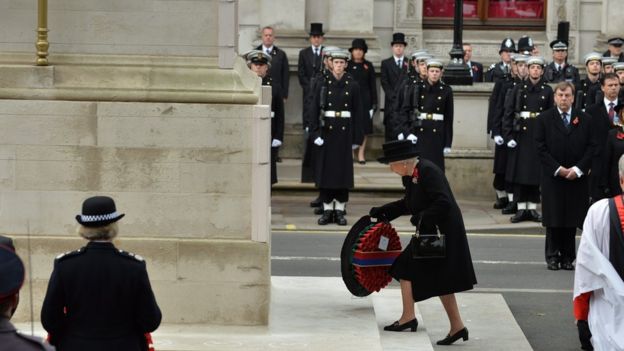 http://www.bbc.com/news/uk-34759280
The Queen has led tributes to the UK's war dead at the annual Remembrance Sunday service in central London.

Thousands gathered at the Cenotaph memorial in Whitehall for a two-minute silence to honour those killed in World Wars One and Two and later conflicts. The monarch, Prime Minister David Cameron and the other main political party leaders all laid wreaths. Events have also taken place around the UK, including in Edinburgh, where First Minister Nicola Sturgeon laid a wreath.
While numbers dwindle of those that served in the World Wars, a new generation of heroes has taken their rightful place next to them. Men and women that have made us proud not just in the UK, but in Canada, the US, Australia, etc. There are many heroes world wide that we honour on one special day, but they need to be honoured year round. Their sacrifices give us the freedoms we enjoy today, and that can never be forgotten. Every generation must learn the lessons of the past and hopefully never repeat those mistakes that take our men and women to war.