We don't know whether to laugh or cry. Our annual list of the year's most laughable moves proves
that, even in moments of crisis, stupidity lives on. (Courtesy of CNN.com)
*
Detroit pleads poverty - in style
Like someone arriving at a food bank in a limousine, the chief executives of the three major U.S.
automakers spark outrage when they fly their corporate jets to Washington D.C. to beg Congress
for a multi-billion dollar bailout.
Yes, we know that corporate jets are often a cost-effective way for the heads of far-flung corporations
to get around. But someone should have known this wasn't going to look good (and, sure enough,
Congress sent the auto chiefs away empty-handed). At the very least, couldn't they have shared a ride?
*
Lamest road trip ever
Let's see...corporate jets are a no-no...the subway doesn't go that far...A bike ride might just kill
us...I know! Let's drive the 10 hours from Detroit to D.C. - in one of our cool hybrid cars!
Given a second chance after the private-jet fiasco to plead their case before Congress, the Detroit
3 take to the road (separately, of course) in a company fuel-sipper.
In the case of Chrysler's Robert Nardelli, the exercise in overkill is particularly awkward: The Dodge
Aspen Hybrid he drove will soon be discontinued.
*
Paulson's 3-page plea for $700B
Treasury Secretary Henry Paulson learns how not to reach for $700 billion. In September, days after
Lehman Brothers collapses and two other giants teeter on the abyss, Paulson submits his "break the
glass" plan for saving the U.S. financial system.
All of three pages, the proposal seeks carte-blanche access to $700 billion in government funding to
buy up troubled mortgage assets at the root of the financial crisis - with scant details on how or
where the money will be spent.
Just as galling, Paulson includes a provision in the bill that will exempt his spending from court
challenges. Congress axes the legal cloak, prompting Rep. Barney Frank to quip, "We have disexempted him."
But the damage is done, and the proposal fails in the House Sept. 29 - triggering another massive market sell-off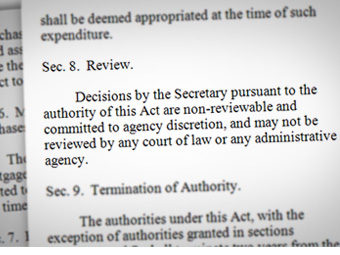 From Henry Paulson's original bailout proposal: Decisions would be "non-reviewable." In other words...'trust me!"
*
Bloating up the bailout
Maybe three pages wasn't such a bad idea after all...When Congress is done with it, Paulson's proposal
for saving the U.S. financial system balloons to 451 pages and is loaded with pork barrel spending
- including, unbelievably, a cut in taxes on toy arrows and an extended tax break on "wool products."
Backers of the arrow tax exemption - section 503, for the record - say it reverses a wrongheaded 2004
law that sharply increased tax rates on cheap kids' arrows.
*
Mozilo's 'disgusting' reply-all
If you thought the former Countrywide CEO couldn't sink any lower, think again. Already under
attack as the overpaid, over-tanned and over-zealous pioneer of subprime mortgages, Angelo Mozilo
doesn't do himself any favors in May after reading a customer's e-mailed plea for help with his home loan.
Intending to forward the missive to a colleague, Mozilo instead hits "reply all" and sends a response
calling the beleaguered homeowner's request "unbelievable" and "disgusting." "Most of letters now
have the same wording," grouses Mozilo. "Obviously they are being counseled by some other person
or by the internet."
Mozilo's heartfelt reply makes its way onto the Internet - and the onetime real estate king finds himself
out of a job after Bank of America acquires Countrywide in July.
*
An iPhone app for just $999.99
The release of the new Apple iPhone in July introduces to the masses the world of mobile video
games and other time-sucking applications designed by non-Apple software developers - most of
them available for less than $10.
But one application sneaks past Apple's gatekeepers and onto the company's new App Store: "I Am Rich,"
a $999.99 screen-saver whose sole feature is a glowing red jewel. Apple gets blasted for making the
application available for sale and then quietly removing it, but the real losers? The eight suckers who bought it
*
Paulson's 'bazooka' backfires
Actions speak louder than words, Mr. Paulson. As shares of Fannie Mae and Freddie Mac plunge in
mid-July on worries about their viability, Treasury Secretary Henry Paulson assures Congress that merely
promising to give the beleaguered mortgage lenders access to Treasury funding would calm market
fears - at no cost to Uncle Sam.
"If you've got a squirt gun in your pocket, you may have to take it out," Paulson tells legislators.
"If you've got a bazooka and people know you've got it, you may not have to take it out."
Congress delivers the bazooka, but investors aren't buying it. Two months later, Treasury takes over
both companies in a move that could cost taxpayers billions of dollars.
*
Fannie's delusions of grandeur
Fannie Mae CEO Dan Mudd proves once again that his crystal ball is malfunctioning. In May, Mudd
predicts that the government-sponsored mortgage lender will "feast" on weakened competition in
the mortgage market - even as its own prospects dim amid mounting credit losses and asset writedowns.
By September, on the brink of collapse, Fannie gets a new owner - Uncle Sam - and Mudd loses a job
*
Sex for oil
This fall, the division of the Department of Interior responsible for granting leases for energy exploration
and production in federal waters is caught with its pants down. The agency's Inspector General finds
that staffers were taking gifts, having sex and engaging in illegal drug use with employees of some of
the oil companies they oversee.
As the report detailing the ethical abuses puts it: "We...discovered a culture of substance abuse and
promiscuity in the...program."
*
Global warming? What a 'crock'
The General Motors exec behind the Chevrolet Volt electric car hands environmentalists another twig
to beat GM with when he reportedly calls global warming "a crock of sh-t."
Bob Lutz, GM's vice chairman for product development, later addresses the uproar on his own blog:
"General Motors is dedicated to the removal of cars and trucks from the environmental equation,
period. And, believe it or don't: So am I!"
11-21 are coming up.