A new space race is officially under way, and this one should have the sci-fi geeks salivating.
The project is a "space elevator," and some experts now believe that the concept is well within the
bounds of possibility -- maybe even within our lifetimes.
A conference discussing developments in space elevator concepts is being held in Japan in November,
and hundreds of engineers and scientists from Asia, Europe and the Americas are working to design the
only lift that will take you directly to the one hundred-thousandth floor.
http://edition.cnn.com/2008/WORLD/europ ... index.html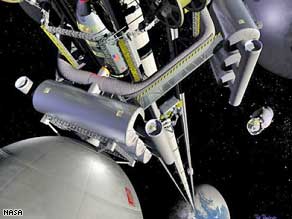 For that long of a ride they should improve the musical choice one usually hears when in an elevator. Its about
20 million for a ride in a shuttle to the Space Station. I wonder what the price tag for this would be?